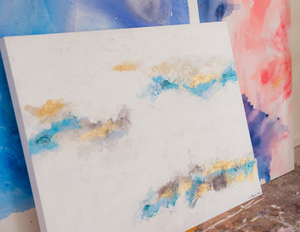 Expressive Art. Authentic Luxury. Refined Living.
Commission Custom Art
If you have a specific location, color palette, or design in mind, Carrie would love to work with you to create a custom piece of artwork. By visiting your space to see the environment and take measurements, she collaborates with you to bring her signature style to your home.

Carrie has painted dozens of commissioned pieces, and is ready to hear about your project. Message her for more details and next steps.
About Carrie
A self-taught artist with a natural sense for high-end design, Carrie has honed a style that is both peaceful and vibrant as well as refined yet approachable. Motivated by seeing others inspired and uplifted through her work, Carrie continues to create, innovate, and design to bring her art to more people in meaningful ways. This desire led to opening her first storefront, CANVAS, where she shares her art and lifestyle products as well as a curated collection from other creators, whose work she has admired for years.
our Storefront
Visit CANVAS
Come explore our curated selection of art, home, and gift items at our storefront in Homewood, AL. Inspired by Carrie's love for expressive art and authentic luxury, CANVAS offers handmade goods crafted by female artists and entrepreneurs.
more information